Vandy Mehra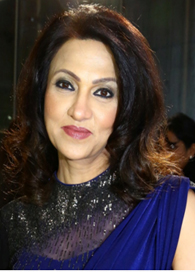 Group Director- Pret Study By Janak Fashions Pvt. Ltd. A dynamic and forward-thinking marketing professional with an entrepreneurial spirit is what defines Vandy Mehra. Her knack for fashion and a tremendous feel for the pulse of the consumer have taken the brand to a next level and have made it a palpable choice for the discerning consumer. Spearheading the Study by Janak's Women's couture, she also heads the marketing initiatives of the brand and constantly works around translating consumer needs into reality. She has given a new dimension to "Prêt" by offering the finest designs, without compromising on quality.It was her hard work and futuristic vision that has won accolades of BEST FASHION HOUSE of 2011 for Study By Janak and "Women's Achievers Award" to name a few.
She belongs to Jesus and Mary Convent school and has completed her graduation from Lady Shri Ram College. The designer streak being in her, she took up Dress Designing from Polytechnic, South Delhi Post College. Her keen interest and passion for fashion business paved her way to being an entrepreneur. As it goes that behind every successful man there is a woman but here Vandy credit's her success to her husband, Mr. Mannoj Mehra, who has not just been her soul mate, but also a consistent supporter, and a mentor. She always finds him by her side to guide her through every thick and thins and it is quite visible in the success that's trickling through the brand in terms of vertical and lateral expansion
Vandy Mehra does not only have a business woman in her; she is a perfect homemaker and a solace to her family as well. After a tired and productive day at work, she likes to be with her family. Her home is one of the best homes in India, and is also a heaven for her, as she says. A typical day for her would include a rigorous work out at gym with her friends, head back home for setting things for the day and then being at her office and stores, not to miss a social engagement in the middle and ending the day with family dinner.