Usha Sharma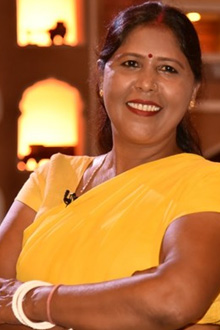 Usha Sharma earlier known as Usha Chaumar was born in 1967 in a traditional Balmiki family in Bharatpur, Rajasthan and got married at the age of 10. On marriage, she shifted to Alwar carrying with her the same social stigma. Usha Sharma earlier in her life upto 2003, was destined to manually cleaning and physically carrying human excreta, facing appalling hardships and humiliation, leading a life of degradation, sub-human existence and treated as an untouchable.
The life she led, was full of indignities and daily insults, not earning enough to have two square meals a day and forced to back breaking task to earn her living. She never knew the joys of childhood. She began scavenging when she was hardly seven and often insisted on getting a broom from her mother so that she too could scavenge. Like the other people in her tribe, who had been engaged in this profession for generations, she would have continued to be so engaged in future too. Both Usha and her husband were illiterate and never had the opportunity or financial strength to go to school. She was able to earn a meager income, doing scavenging from house to house in Alwar.
Dr Bindeshwar Pathak, Founder, Sulabh International Social Service Organisation (SISSO) who was on a mission to liberate scavengers, came across Usha Sharma during a visit to Alwar. She was offered the opportunity to join the training institute 'NAI DISHA'. which had been started by Dr. Pathak at Alwar then. She grabbed the opportunity and learnt to prepare pickles, papads, noodles and other eatables. It transformed her life and she soon discovered that the very people in her village, who had treated her as an untouchable, were willing to buy the food products made by her, now that she had stopped scavenging. This also increased her income substantially.
She learnt to read and write Hindi and to some extent English as well. Having seen her determination, SISSO gave her a place of pride and appointed her as President of Sulabh International Social Service Organisation in 2007. As the President of Sulabh, she emerged as a leading lady of the community. She visited Durban in South Africa to pay homage to Mahatma Gandhi. She has also visited several other countries. Such was her self-confidence that she even spoke at the United Nations, where a group of scavengers from India was invited to participate in a 'Fashion Show'. After her return from UN, she was invited by then President of India, Smt. Pratibha Devisingh Patil to visit Rashtrapati Bhawan.
Usha Sharma has received an award from Hon'ble Prime Minister Shri Narendra Modiji at a function on 2nd October 2015 organized by India Today Group. She was also awarded Sat Paul Mittal National Award for her exemplary contribution for upliftment of manual scavengers.
In addition to above all, because of her all round qualities, which she acquired by her own efforts, she became an inspiring figure for Balmiki community and women in particular. Though basically illiterate, she can now deliver extempore speeches on the contributions of Sulabh in the field of health, hygiene and sanitation, eradication of social evils and Swachh Bharat Abhiyan. She has represented SISSO on many important platforms, in India and abroad.
Sulabh by taking a historical step on October 5, 2016 got these women dress up in yellow saris and declared them Brahmins. We believe that they should get the highest place in the caste hierarchy in society, so that the question of conversion of religion does not arise. We are happy that society has accepted this change.