Dr. Sonia Anand Rawat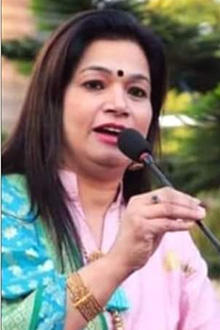 She is with her identity as a singer, a singer who struggled very hard to recognize her singing. She started singing at the age of almost 13 years and at the same time the condition of the house was also very bad, she also started learning and worked also with struggling life, along with the voice which God gave her, she went on achieving success, she did a PhD in music and also after receiving the first prize in the drama academy, after that she decided to travel to Sa Re Ga Ma Pa in 2004. This was a great achievement in her life that she had made myself known abroad on the international stage of singing as well as people of Uttrakhand she was very proud because at that time singing was not considered to be very good, but after reaching there she felt proud of being the daughter of Uttrakhand, after that her journey became very good Kailash Kher ji Shankar ji Ghulam Ali Ji Suresh Wadkar ji Alka Yagnik ji with a wonderful opportunity to share the stage with her, along with Anu Kapoor ji also did a lot of work she did many songs with Udit ji In the film Badri and Shyam ji with a beautiful song went on the path of Jannat, found a very good achievement, there were many beautiful programs coming in Doordarshan. You can see Sai Bhakti Jai Maa Yamuna on the internet. It is going to come soon to the market. Analytical study of music of her Vivekananda and also her family's support remains with her. She has an institution called echo, 10 year old institution for poor destitute girls and daughters for children, do their programs on the teachings of the daughter. At the time of the disaster, their organization came to Uttrakhand. Her family is a social family, under which she teach workshops and music singing on many children today, as well as her, Uttrakhand Ratna.
She received the Best Singer Award 2009 in the film City, received at the Atal Bihari Sur Kokilala Sammelan Sansad Bhawan, she also worked as a teacher of music.