Shaila Dharmik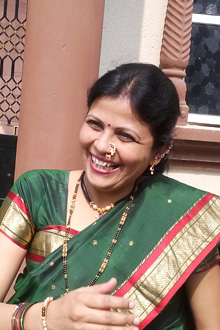 She was born 6th May 1972 in Maharashtra. She did B.E. Electrical Engineer and Diploma in Electrical Engineer. She is working in BSNL as a Junior Telecom Officer (Electrical) in Vadodara, Gujarat. She is Physically Handicapped Woman (Divyang woman) and her slogan is "My ability is stronger than my disability".
Landmark achievement in occupation
• With sheer sincerity and hard work, financial saving in BSNL on account of energy saving in Alkapuri Telephone Exchange, Vadodara & saving in project work worth of Rs. 1 Crore 38 Lakh.
Achievements in sports Activity
1) Cricket- Gujarat & U.P Team won the Trophy in  1st Physically Challenged Women IPPL Cricket Tournament on Green park Stadium at Kanpur on 23rd & 24th June 2018 against Jharkhand women's Team & I was wicket keeper in that team. & this achievement is recognized by  Amar Ujala News paper of Kanpur, Sandesh News paper, Divya Bhaskar  News Paper (City Sport) of  Vadodara,Gujarat in July 2018.
2) Atheletic- 3rd rank in disc throw & shotput in special Khel Mahakumbh in year 2016 , 2017 7 2018
3) 10 mtr Rifle Shooting- Won 6 gold medals & 1 bronze medal in 10mtr Rifle shooting in various district and state championship in Gujarat e Gujarat.
Achievements in Hindi Competitions-
Won the First prizes in Hindi Essay writing,Hindi Poem writing ,Hindi Anuwad in Hindi Pakhawada  in BSNL and honoured by Principal General Manager (PGM) and General Manager (GM)  of  BSNL Vadodara Telecom.
Welfare Activity

I am active member of TWWO BSNL (Telecom Women's welfare association) and associated with activity like Swachchha Bharat Abhiyan, Visit to Multi Disability school & Training Centre, Vadodara,  Celebration of International Women's Day, Environmental Awareness Tree Plantation, Celebration of World Environmental day,  Celebration of International Yoga Day.
Social Activity

I am Permanent and active member of Society for the Physically Handicapped, Vadodara. Actively take part in all program for physically disabled like health check up camp,job mela etc . Donated the notebooks to poor and needy disabled children worth of Rs. 12,000/-

Honoured by
i) I was also honoured by CMD, BSNL at Ahmedabad for efficient divyang women working in BSNL , ii) by Sahyog Vikalang  Vikas Trust at Mehsana, Gujarat as best efficient employee, iii) Women Achievers Award 2018 by Young Enviromentalists Trust at Pawai, Mumbai, iv) Divyang Ratna Award by Kalgi foundation, Ahmedabad
Spouse- Paresh M. Dharmik, he is also physically disabled , working in Food Corporation of India in Vadodara City, Gujarat & he is also National Rifle Shooter.
Children - Have one son Master Harshil Dharmik,  is studying in 8th standard. He is Amateur Tabla player and represented mother country India twice,in International folk dance and music festival in France and won the award for "Best Music" in Malaysia.
Sincerity and hard work has no other alternative and this is motto of my life. Problems and hurdles came in my life since beginning and I always face it with sheer determination. Life struggle story of a disable woman like me must be recognized at this level, so that it gives confidence and moral support to face many such forthcoming hurdles, with ease. I think such moral boosting will definitely prove stream of inspiration for other woman like me.