Rita Menon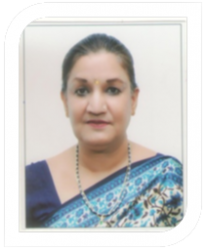 Mrs. Rita Menon, Chairperson & Managing Director of India Trade Promotion Organisation (ITPO) has been a student of Science, and has graduated as an undergraduate in Economics and Masters in Economics from the Delhi School of Economics. Before joining the Indian Administrative Service, in 1975, she taught Economics in the prestigious Miranda House College in the Delhi University.
In service at the State Government level, she has held a variety of field postings relating to Revenue Administration, Law & Order, Rural Development, Urban Development, Finance and Industrial Promotion in Uttar Pradesh. She has often been the first woman to head several important organizations such as Ghaziabad Development Authority, U.P. Finance Corporation, Greater Noida Industrial Development Authority, Ministry of Textiles and was instrumental in shaping these organizations to higher level growth and development. In fact, under her stewardship the loss-making U.P. Finance Corporation was turned around.
She has held the important assignments of Additional Secretary and Special Secretary in the Ministry of Finance (Expenditure) and Secretary (Textiles), Government of India. During her tenure from February, 2009 to December 2011, the Textile Industry had seen a substantial turnaround, and has assumed a new dynamic profile. She has been taking up the causes of Modernisation, Investment and Skill Development in Textile Industry by pushing Schemes like Technology Upgradation Fund Scheme, Technology Mission for Technical Textiles, Jute Technology Mission, Skill Upgradation Scheme, and Scheme for Integrated Textile Parks, along with a major contribution to the growth, development, diversification and marketing of handlooms, handicrafts and jute products. In fact, the growth of the Technical Textiles sector has seen a major growth under her leadership which has also seen the setting up of 8 Centres of Excellence and substantial industry/Government partnerships. The new revamped Technology Upgradation Fund Scheme, continuation of focus on the Integrated Textile Parks by obtaining approvals for new parks, have been her major contribution.. A new effort for creating world class infrastructure to set New Delhi finally on the exhibition and convention map of the world is being spearheaded under her leadership. Besides managing the largest exhibition-cum-convention infrastructure in the capital city of New Delhi, it facilitates promotion of domestic and international trade in goods and services through exhibitions, data provision, conferences, seminars and other trade promotion activities in India and abroad.