Dr. Priti Kharbanda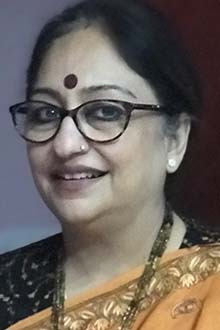 She was born on 22nd June 1979 is an WOMEN entrepreneur and the CHAIRPERSON of innovative cure beauty & health clinic, She is also the chairperson of the Beauty & Wellness Sector of Lucknow ,an initiative that offers free skills training for the beauty industry.[3] She is an Indian Entrepreneur & Businessperson. Her father was a senior advocate and minister in Uttar Pradesh government and her mother ran a charitable yoga ashram. Dr. Priti completed her graduation, master of social work (M.S.W). from the Lucknow university, She later went on to gain expertise in NATURAOPTH & YOGA FROM UDAIPUR VIDHYAPEETH deemed university and completed her bachelor's/doctorate degree in naturopath and yoga & master diploma in acupressure .later she did certificate and diploma in beauty, fitness, food and nutrition and skin care . , She went on to gain knowledge and completed her MASTER OF BUSINESS ADMINISTRATION in marketing from Allahabad agriculture deemed university.
She married Dr Paras Kharbanda MD (pathology) head of department, medical college , lucknow in 2006 .
She started innovative cure in Lucknow in 2002, as a beauty and slimming services centre in Hazrat Ganj Area, Lucknow. Innovative cure has a strong presence in all over Uttar Pradesh. It offers weight management and beauty programmes (skin, body and hair care treatments and advanced dermatology and cosmetology solutions). Innovative cure weight-management solutions include a unique naturopath-based weight management system to customize weight loss programmes for an individual.
Innovative cure has the largest scale and breadth of operations within the beauty and wellness services industry in Lucknow. Currently the store operates in 2 locations. With over 50 employees, including nutrition counselors, medical professionals, physiotherapists, cosmetologists and beauty professionals, innovative cure is a leader in the lucknow beauty and wellness industry .
She actively helps the underprivileged and the physically challenged by providing them free education in beautician courses. She is Chairperson of the NGO "Shree Mahesh & das educational welfare society" ,providing free vocational beautician training facility.
DR PRITI KHARBANDA has received a host of awards for excellence and entrepreneurship over the years , awards include The NEWS 24 Magazine Women Entrepreneur of the Year Award.& delegated as honoree editor of health and nutritional column of news 24 magazine.