Prof. Nupur Prakash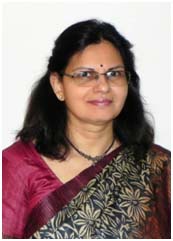 About:
She is the founder Vice Chancellor of Indira Gandhi Delhi Technical University for Women established by Govt. of Delhi in 2013 as the first Women's Technical University. She possesses a work experience of around 30 years in research, teaching and academic administration, with several years spent holding key leadership positions. She has been educated at IIT Roorkee (erstwhile University of Roorkee) and possesses a brilliant track record as an academician and administrator in the field of Engineering and Technology. She has recently been honored for " Outstanding Contribution to Education" at 22nd Devang Mehta Business School Award held in Mumbai on 15th Nov 2014 and JGBS-Top Rankers Excellence Award for Women Role Model", Delhi on 16th Jan 2015. She has also received the "Inspiring Women Edu-leader" award on International Women's Day on 1st March 2014, by Engineering Watch.
A recipient of the Chancellor's Medal for being the best outgoing student of University of Roorkee in 1981, Dr. Nupur Prakash completed her B.E. (Electronics & Communication Engineering) and M.E. (Computer Science & Technology) degree from University of Roorkee (now I.I.T. Roorkee) and PhD (Computer Engineering) from Punjab University, Chandigarh in the area of Natural language Processing using Artificial Neural Network. A keen researcher with quest for knowledge, she has worked as a Scientist at CSIO, Chandigarh (a CSIR lab) from 1983 to 1985 and was involved in design, research and development of microprocessor based instruments.
She was actively involved in establishing the dept. of Computer Engg. at the prestigious S.G.S. Institute of Technology and Science, Indore, M.P. during 1986 to 1989. Later on, she served the dept. of Computer Sc. and Engg. at PEC University of Technology (erstwhile Punjab Engineering College), Chandigarh for ten years (1991-2000) in different capacities and became the youngest and the first woman Head of the Dept. in 1994. She has served as Dean, University School of ICT, GGS Indraprastha University during 2006-2008, and also held the post of Dean, School of Engineering and Technology (2009-12) at GGS Indraprastha University.
Dr. Nupur Prakash is a member of Governing Council and Advisory Board of several Engineering Colleges and Management Institutes of India. She is on the editorial board of several IT Magazines and Journals. She has been a reviewer for several conference and Journal papers on Mobile Networks, Ubiquitous Computing, E-learning and Secure Wireless Networks at National and International level.
She has been a nominated by AICTE, NBA, UGC, DIT (Ministry of Comm & IT, Govt. of India), NIC, DOEACC (NIELIT), CDAC and DIT (Govt. of Delhi) as expert member of various committees. Her major areas of interest are Mobile Communication, Network Security, Cryptography, Secure Wireless Communication and Natural language Processing. She has guided 9 PhD scholars and authored more than 100 research papers and articles for various national and international journals/conferences of repute. She is a life member of professional bodies like Computer Society of India (CSI) and Associate member of Institute of Electronics and Electrical Engineers (IEEE), USA.