Neha Pant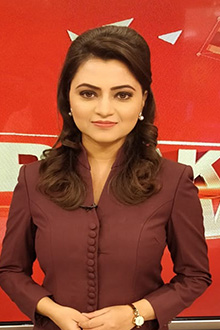 She is from Uttarakhand. However, her family was settled in New Delhi from where she did her entire education as well as going ahead with her professional life. She has done Diploma in Mass Communication from Kamla Nehru College, Delhi University.
She is a popular Hindi TV journalist and anchor. She is part of the core team of prime-time anchors. Apart from the evening prime time band she has also had the opportunity to conduct live reporters' chat, 'phones', interview's with the guests and debates on important issues of the day as well as anchored bulletins throughout the day.
Analyzing the political mood of the country is her forte and with ABP News, she has conducted intense political debates on the news stories that heat up the political climate. This has held me in good stead while anchoring prime time LIVE political debates like Badi Behas (6-7pm) and debate show 'Dharm Sankat' (7-8pm), Rajdharm (5-6pm). And currently, she is anchoring a political show called 'Siyaasat ka Sensex' (8-9pm) in the run up to 5 states assembly polls.
She has also frequently stepped out of the studio to interview newsmakers of the day and anchored panel discussions.
The Lok Sabha elections of 2014 and subsequent state elections of Maharashtra, Assam, Haryana, Delhi allowed her to do a lot of work from the field and she travelled extensively to the hinterland for ground reporting and debates. Some of the shows that can show case the outdoor work are namely Kaun Banega Pradhanmantri, Dilli ka neta kaisa ho and Desh Ka Mood to name a few.
She has anchored a show called 'Ganga Ki Saugand' from the banks of river Ganga in Haridwar as part of ABP News campaign dedicated to the clean up Ganga mission. In the show, she interviewed Union water resources minister Uma Bharti and Yog Guru Ramdev with saints as part of the Live Audience.
Hosting the show 'Hindi Utsav' in front of a live audience is particularly close to her heart as it was organized on the special occasion of Hindi Divas with renowned lyricist Prasoon Joshi, actor Nawazuddin Siddqui and Delhi CM Arvind Kejriwal amongst the participating dignitaries.
She also did a special outdoor show on International Yoga Day showcasing the achievements of Yoga practitioners and highlighting benefits of Yog.
She love for anchoring and political analysis was also recognized by the MP Government. Ms. Pant received Madhavrao Jyoti Alankaran award from Shree Jyotiraditya Scindia for best news anchor in 2015. She was also awarded the Best Hindi News Anchor (Editor special) award at the 2016 News Television Awards.