Dr.Suman Manjri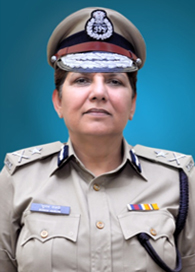 She was born 1st December, 1957. She is from Haryana and her qualifications are M.A, LLB, Ph.D. She also works for Women Liberalization.
Profession:
Radio Announcer 1978-80
Lecturer Hindu College Sonepat 1980-88
Joined Police Deptt. As Dy. Superintendent of Police, Haryana in August 1988. Served as DSP at Jind, Kurukshetra, Gurgaon, Hissar, Madhuban, Gohana, Bhiwani & Bahadurgarh.
Promoted as Superintendent of Police, in 1994 & Posted as SP Bhiwani, SVB Ambala, Rohtak, Panipat, Yamuna Nagar, Railways, Commandant 2nd BN. HAP, Madhuban & HPA Madhuban.
Promoted as Deputy Inspector General of Police on 02.06.2010 & remained posted in HPA Madhuban.
Promoted as Inspector General of Police on 7.2.2013 & presently posted as IGP/Haryana Police Academy, Madhuban.
Achievement in Student Life:
Best player of Table Tennis Distt. Level and University
Debate Declaration, Drama, Poetry.
College colour holder in 1974,1975,1976 (Literary activities)
Best Student of IC College, Rohtak in 1975, 1976
More than 200 prizes obtained from different colleges in debate Declaration, Drama & Poetry
Special Achievements:
Awarded Police Medal for Meritorious Services on the occasion of Republic Day 2011
Successfully solved the case of sex Scandal Gohana and Baby killer case of Bahadurgarh.