Dr. Bornali Datta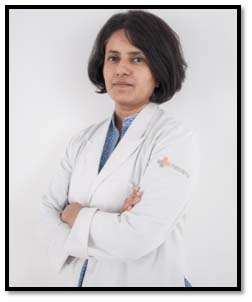 About:
She is from Delhi & completed their education MBBS, MAMC, Delhi University, India (1996); MD Medicine, MAMC, Delhi University, India (1999); MRCP, Royal College of Physicians, Edinburgh (2001); CCST (Respiratory/GIM), Joint Royal Colleges Post Graduate Training (2009); Board (JRCPTB), UK.
Profile:
Dr. Bornali Datta is a highly qualified Respiratory physician with twenty years of experience in the field of Respiratory Medicine. She did her MBBS and MD Medicine in the prestigious Maulana Azad Medical College, New Delhi and then spent the next ten years in UK, in specialist training in Respiratory Medicine (MRCP UK and CCST UK) and working as a consultant there.
She returned to India in 2010 to give back her skills to where she felt the need was far more. She also has a passion for rural medicine and this prompted her to start a mobile van service to increase Tuberculosis case detection, which remains a scourge in India. The pilot project was carried out in close conjunction with the government health services and was very successful. This led on to the launch of "Mission TB-Free Haryana" in 2015 and the establishment of a highly successful public private partnership model.
With the backing of her hospital, she has brought together government, private sector, NGOs and others on a common platform for a greater service in healthcare. She carries on with great determination to bring to fruition the mission I rural health and TB over the next five years, while continuing with her daily job in hospital caring for unwell patients.
Chief Adviser Category
Chief Adviser - Anil Kaushik
Legal Adviser - Kumar Vikram