Arushi Nishank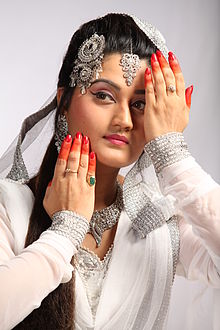 She was born 17 September 1986, in Kotdwar, Uttarakhand in northern India. She has done her bachelor's degree in Political Science and Philosophy from Bansathali Vidhyapeeth, Rajasthan. She continued her studies with MBA and International Business Certification from Metropolitan College, Toronto, Canada. She has done 8 years of "Nishnat" a Specialization certification in Kathak dance form. Currently she is pursuing her PhD in human resource in India. She is also the chairperson of her own Himalayan Aryuvedic Medical College & Hospital in Dehradun, Uttarakhand.
She is an internationally acclaimed Indian classical Kathak danseuse, entrepreneur, Film Producer and a poetess. She is the disciple of Pt Birju Maharaj and Dr Poornima Pandey. She is an kathak empanelled artist of Indian Council for Cultural Relations ICCR. She is also an graded artist for Doordarshan, a division of Prasar Bharati.
Arushi has given many renowned international kathak performances like "Special Yoga & Kathak Concert" in London, "Lecture Recital" Indian Sphere "Graz" in Austria, "Bengalischz Nacht", an Indian classical dance in Germany, "Toronto Festival of India" in Canada. Others include "Tarana Dance Concert" and Foreign Delegate Conferencein Canada, Indradhanush "Color of India" in Dubai, "Horizon Series" for the Indian Council for Cultural Relations and the Doordarshan Live Concert in Delhi, Taj Mahotsav in Agra and a performance at the International Yoga Festival, Rishikesh. She has also composed and choreographed many compositions like "Ganga Avataran", a story of Goddess Ganga coming to earth, and "Sajda", an Sufiyana classical Kathak Dance. Arushi has also worked as a teacher with Spic Macay in teaching students the art of Kathak across India. She has also done many performances under Indian Council for Cultural Relations. She has also been interviewed by the Times of India, News 24 and Doordarshan Group on many occasions. Arushi has also worked in TV advertisements to market Patanjali Yogpeeth. Her first TV advertisement for patanjali products was aired in 2012 on Aastha TV. Arushi was fortunate enough to meet and present a Souvenir to Charles, Prince of Wales and Camilla, Duchess of Cornwall on their visit to Parmarth Niketan Rishikesh Uttarakhand in 2013.
Arushi is also a poet. Two of her books on poetry collections, Swarg Banaungi and Kamal Mashal Ban Jaye, have been published in India.
She also promote Namami Gange, Sparsh Ganga Campaign, beti bachao beti padhao Achievements:-
YI National Youth Icon Award, 2015
Garhwal Post Outstanding Achievement Award, 2016
Pride Of Uttarakhand Award, 2017
Uttarakhand Gaurav Samman Award, 2018
Most Iconic NRI Award, Dubai, 2018
'Power Girl', Forbes Middle East, 2018