Aruna Vasudev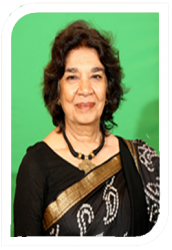 With a PhD in cinema from the University of Paris, noted writer, editor, Festival Director and organiser, ArunaVasudev has devoted a major part of her life to the promotion of Asian cinema. She is the Founder-President of the international Network for the Promotion of Asian Cinema (NETPAC), Founder-Director of Osians'-CinefanFestival of Asian Cinema, Founder-Editor of Cinemaya, the Asian Film Quarterly, Founder-Director of The Inner Path, the annual festival of Buddhist Art, Film & Philosophy. She is a Trustee of the Forum for Art Beyond Borders – which organizes the annual Delhi International Arts Festival – the Public Service Broadcasting Trust(PSBT), Indian Documentary Foundation, Vice President of the Alliance Francaise, etc.
She has directed documentary and short films, authored two books on Indian cinema and edited several others on film and television in Asia. She started her magazine Cinemaya in 1988, with the aim of making the cinemas of Asia known nationally and internationally and, with Netpac, helping Asian cinema gain wide recognition. She initiated and organized major international conferences on cinema, art and culture – "Imaging Asia", and "Roots, Identity, Modernity", and. She has participated in several international conferences and has been President or member of a large number of international film festival juries including Cannes (Camera d'Or), Locarno, Singapore, Tehran, Thessaloniki, Hawaii, Shanghai, Granada and Las Palmas (Spain), etc.
She has been honoured with national and international cultural state awards, such as the French Chevalier des Arts et des Lettres (2002) and the Italian Star of Solidarity (2004). In 1997 she received the Korea Prize from the Pusan Film Festival, in 2006 the Award for the promotion of cinema from the Cinemanila Film Festival in the Philippines, Satyajit Ray Memorial award from the Asian Film Festival, Mumbai, Medal of the City of Vesoul, France theKaramveerPuruskar, and others in India, while the Tripoli International Film Festival in Lebanon, has instituted a Lifetime Achievement award in her name.